We are so excited that this Thursday, May 28th is National Hamburger Day! We found the top ten best places in the Texarkana area to celebrate this amazing day… we promise you won't have to say 'where's the beef?'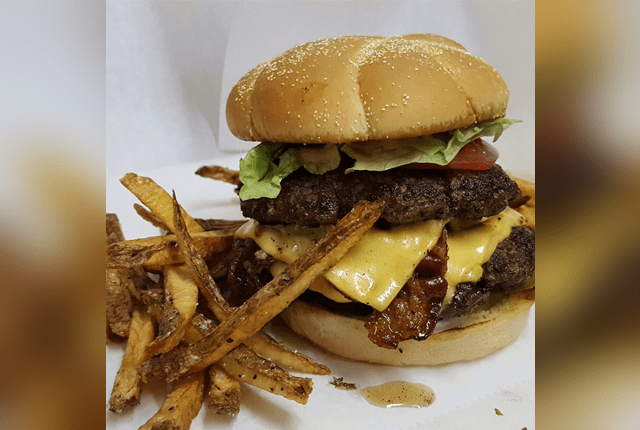 The Burger Joint Stateline
(903) 791-3822 | 5309 N State Line Ave, Texarkana, TX 75503
The Burgers were amazing! The place was cute as heck plus the staff was outstanding.
The Burger Joint
(903) 556-0596 | 700 Davy Crockett Suite 200, New Boston, Texas 75570
Burgers are on point but those Angry Fries are on a whole another level
---
Pecan Point Gastropub & Brewery
(903) 306-0661 | 213 Main Street, Texarkana, Texas 75501
Try some tasty variations on the good ole burger and enjoy the full bar, including custom cocktails made with house-infused spirits and a well-rounded wine list.
---
Shorty's Donut Shop and Diner
Highlights info row image
(903) 832-6686 | 2729 New Boston Rd #98, Texarkana, TX 75501
Your Texarkana connection for Pittburg Hotlinks…
---
Lunchbox Cafe & Catering
(903) 832-3874 | 503 S Robison Rd, Texarkana, Texas 75501
Don't miss out on the great desserts and casseroles…
---
Julie's Deli & Market
(903) 792-3354 | 4055 Summerhill Square, Texarkana, Texas
You won't wanna miss out on the "made with care" burgers and so much very more…
---
Main Street Cafe
(830) 730-3384 | 119 Main Street, Maud, Texas
Enjoy a great burger, great customer service, always a great experience.
---
Dixie Diner
(903) 223-0841 | 4115 N Kings Hwy Ste 120, Texarkana, Texas
So many burgers to choose from and everything is homemade, delicious and the servers are incredibly nice.
---
TLC Burgers and Fries
(870) 773-9316 | 201 E Broad Street, Texarkana, Arkansas 71854
If you want that good ole burger that requires at least five napkins to catch the juices…this is the place. The fries with Red River Sand make the burger even better. Always delicious.
---
Jim's Place But Carol Runs It
(870) 898-7900 | 290 S Dupree Street, Ashdown, Arkansas 71822
You will for sure get burgers but BIG flavor and very reasonably priced. You'll love every bite