Please take a moment to congratulate and thank Sergeant Kyle Claude for his outstanding service and dedication to our city, Texarkana, Arkansas. We can count on TAPD Sgt Claude's commitment and exceptional leadership to effectively ensure the threat of illicit drugs and illegal weapons are removed from our streets.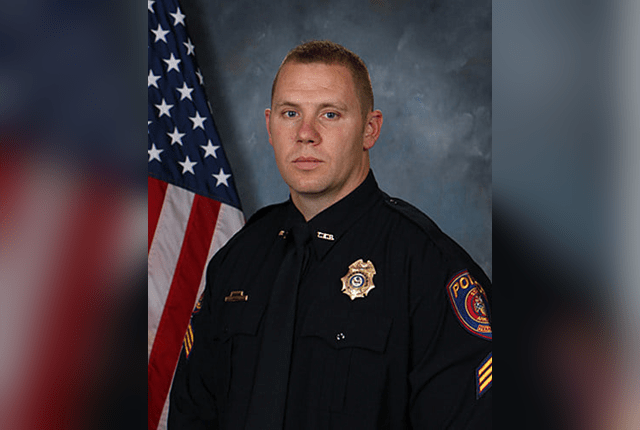 In a letter from Chief Bennett she states:
I want to start off by speaking about the character and work ethic of Sergeant Kyle Caudle. Sergeant Caudle has been assigned to the narcotics unit, as well as other units within the agency and without hesitation he has done his job. He leads by example and wins over the confidence of his officers. Sergeant Caudle does not mind working side by side with his officers. The officers know he is not asking anything of them that he is not willing to do himself. He is fair with his officers but also has high expectations for their performance. He receives instruction well and gives instruction to his officers in a very constructive manner. Sergeant Caudle was asked to take over operations in the narcotics unit while the unit had gone thru massive turnover and had all new detectives. He took all these changes head on with a good attitude. He taught his new detectives and guided them in a way I believe set the tone for the success of the unit. The work this unit is now producing is a direct result of his leadership and direction. Several examples of this are as follows:
At the beginning of 2021, our city began to experience an uptick in drug overdoses. These overdoses were related to fentanyl laced pills that were disguised as Oxycodone 30 milligram blue tablets. The narcotics unit started to work all the overdoses in a way that split the work between our criminal investigation division and the narcotics unit. The narcotics unit was primarily responsible for going after the source of the fentanyl laced pills that were responsible for the victim's overdose. As this investigation started and continued at the direction of Sergeant Caudle, our unit was able to seize thousands of fentanyl laced pills, guns, other dangerous drugs and assets. Our unit was also able to assist in Texarkana, Texas Police Department making numerous cases on drug dealers selling these pills within their jurisdiction as well. This investigation continues and much of the details cannot be discussed at this time.
In September of 2021 Sergeant Caudle's continued hard work resulted in the arrest of a large-scale methamphetamine supplier in our jurisdiction. Sergeant Caudle began this case in April by managing a confidential informant. By successfully managing this informant, he was able to obtain seven delivery warrants for the offender's arrest. During this time, he conducted background investigations on the offender's movements and his relationships. Sergeant Caudle determined it would be beneficial to his case to conduct a search warrant of the offender's residence on Jackson Street. Sergeant Caudle set a plan in motion and communicated the plan to the rest of the team who assisted. As a result of this well thought out plan, the narcotics unit was able to seize approximately one kilo of suspected methamphetamine, three and a half pounds of marijuana, seven guns, including one stolen assault rifle and $24,000.00 dollars US currency.
The defendant was subsequently charged with fourteen felony charges and will hopefully be taken off the streets for a long period of time, giving the citizens in and around this neighborhood much needed relief from the offender's influence in their area. Sergeant Caudle's hard work was textbook in working a long-term investigation on a high-end supplier of narcotics. This case was an example to the men in the narcotics unit and reflects on the high level of work he does for our agency.
Due to Sgt. Caudles continued leadership and work ethic he has been chosen by the meritorious awards committee as the 2021 Texarkana Arkansas Officer of the Year.
Tags: