This Thursday, March 10th I-30 Exit 207, Spur 594, will be closed for construction for several months. This closure will mainly affect westbound traffic; please use Exit 208 (Hooks) instead—complete details to follow.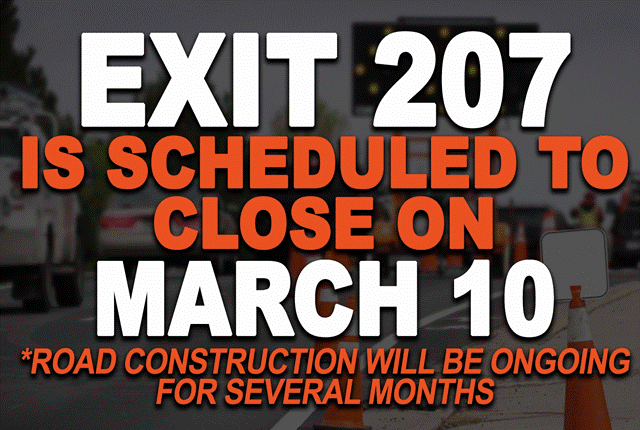 Red River Army Details
Beginning Thursday, 10 March, Exit 207 (Spur 594) will be closed (weather permitting). This construction project will impact Exit 207 for several months.
What is the planned work for Spur 594?
*Concrete traffic barriers previously placed along the frontage road will be moved and traffic will again be shifted on the frontage road. Additional concrete traffic barriers will be placed along the main lanes and work will be done in the area between the frontage road and the main lanes.
How does this impact traffic?
*I-30 main lane traffic will be restricted to the inside lane.
*The westbound frontage road will remain open; traffic patterns may shift.
*Spur 594 westbound exit ramp (Exit 207) will be closed. Westbound traffic needing to access Spur 594 will use the westbound exit (Exit 208) for FM 560, travel through the stop sign, and access Spur 594 using the frontage road. Traffic will be directed through messages on message boards to use the FM 560 exit (Exit 208).
*What does this mean for you?
Team members traveling westbound I-30 should take Exit 208 (Hooks) during construction to access Spur 594.
Tags: