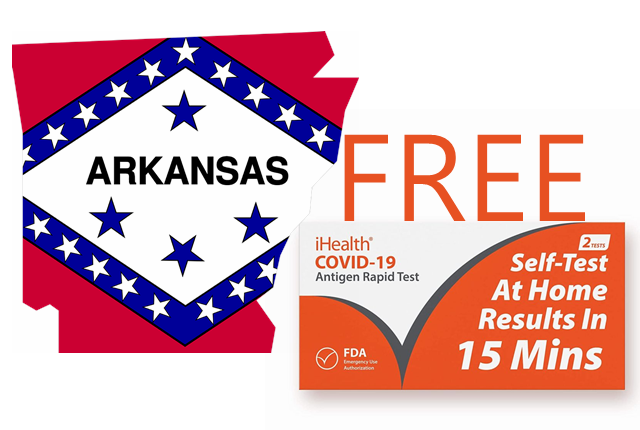 To help ensure Arkansas residents can easily self-test for COVID-19, the state of Arkansas now offers Free "iHealth at-home" testing kits to all Arkansas Residents. These "home testing kits are available at convenient central locations across Arkansas, most commonly at Public Libraries. We have a list of our area's Home at-home Testing kits below. These testing kits became available on January 11th, 2021. Complete details to follow. Let's stay healthy, Arkansas.
---
Arkadelphia | Clark County Public Library | 609 Caddo Street, Arkadelphia, AR
---
Ashdown, AR | Ashdown Community Library | 160 E. Commerce Street, ASHDOWN, AR | (870) 898-3233
---
Fulton, AR | Fulton City Hall | 305 Little River Street Fulton. AR
---
Hope | Hempstead County Library | 500 South Elm Street, Hope, AR | (870) 777-4564
---
Nashville, AR | Howard Public Library | 426 N. Main Street, Suite 5, NASHVILLE, AR | (870) 845-2566
---
Prescott | Nevada County Library | 121 W. Main, PRESCOTT, AR | (870) 557-5846
---
Texarkana, AR | Bridging the GAPS | 4425 Jefferson Avenue, Texarkana, AR
Texarkana, TX | Texarkana Public Library | 600 W. 3rd Street, Texarkana, TX | (903) 794-2149
---
Click here to explore the different "free testing kit" sites in Arkansas.
---
The State of Arkansas has purchased 1.5 million iHealth at-home tests for distribution across the state. These tests will be available at no cost to Arkansans.

FREQUENTLY ASKED QUESTIONS

Q: Who is eligible to get an at-home test at no cost?
A: All Arkansans.

Q: How many tests can each individual/family get?
A: Two tests (one kit) per individual per day or six tests (three kits) per family per day. There are two tests in each kit.

Q: When will tests be available?
A: Tests will be available starting January 11, 2022, from the first shipment received by ADH. Additional shipments will be arriving in the future.

If you have a fever, cough, or shortness of breath OR if you think you have been exposed to COVID-19 call your health care provider. Testing is available by appointment at Local Health Units and can be scheduled by calling any location.
---
Tags: